SA Remote Customer Feedback

Metrology is now part of every industrial project, and embedded metrology is the emerging standard. Embedded metrology has become an essential tool for manufacturing. French-based G²Métric is fully involved in the development and integration of measurement solutions for Metrology Assisted Assembly and does significant work with aerospace manufacturer Airbus.
SA Remote Customer Feedback
SA Remote is the official iOS app that allows real-time viewing of 3-DOF and 6-DOF spatial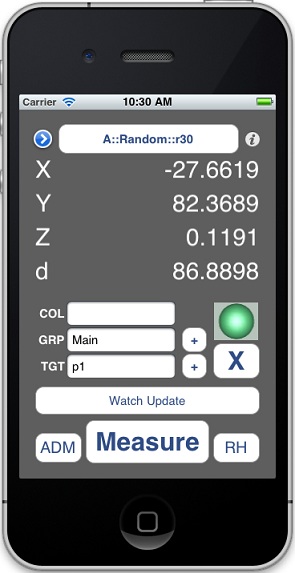 data from SpatialAnalyzer® (SA) and allows remote control of the SA Laser Tracker interface. Available for free download at the Apple App Store, SA Remote can run on your iPhone®, iPod® touch, or iPad®. Here at New River Kinematics, we've found that an iPod touch makes the perfect SA Laser Tracker remote control.
Very popular amongst SA users, SA Remote is already saving people time and effort on the job. Scott Leedy, 3D Engineer at Applied Aerospace Structures Corp. (AASC), began using SA Remote as soon as the app was released. It especially came in handy when Leedy's team needed to level a tool that was too large to adjust while keeping the computer monitor in sight. Using SA Remote with an iPod touch, the technician was able to watch the numbers in real time at each adjustment location—a job that would normally require two people. Leedy says, "We keep an iPod touch with SA Remote on each of our three systems and use them for remote triggering as well."
Brock Peterson, Alignment Engineer at AASC tells a similar story, "One of our Aircraft products requires getting under the work piece and scooting around on the floor. The tracker and workstation are both 15' away from the piece, but with SA Remote I am able to set the measurement mode and target names without having to get out from under the work piece."
Interested? Visit the Apple App Store to download SA Remote for free today. Learn more about SA Remote by clicking here.
Click here to learn more about our custom applications or click here to read more about our applications.