Trust & Validate CAD Models in SA

The SA CAD Validation application is a solution that helps identify and produce detailed conformance reports to validate CAD model data interoperability.  Identifying these issues is important to ensure that the nominal geometry used to build and check components is consistent with the design models. Available since the SA 2017.08.11 release, the SA CAD Validation application is a stand-alone utility available via the
download page
. Read on for more information on how this new application can help you.
SA CAD Validation Application
When you need to know that imported CAD geometry matches the nominal geometry, the SA CAD Validation application can help automate the analysis and reporting. Having a consistent CAD Validation process is becoming a frequent request from manufacturers. Boeing's D6-51991 "Quality Assurance Standard for Digital Product Definition" requirement is a perfect example.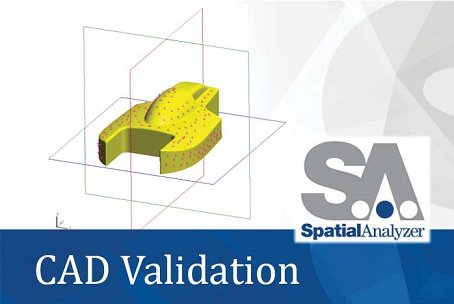 Available since the SA 2017.08.11 release, the SA CAD Validation application is a stand-alone utility that streamlines the following:
Define standalone test reference files that contain lists of CAD files and reference points for verification. It uses a simple independent ASCII reference point file to verify the imported CAD Model in SA and provides the ability to verify all the file formats supported by SA's Direct CAD Import functionality.
Allows defining statistical tolerance thresholds for acceptance and rejection for each CAD file evaluated.
Provides a separate and independent connection to SA for verification purposes.
Delivers a simple user interface and a RUN button to perform a verification process with as detailed a verification as is required.
The SA CAD Validation application is a solution that helps identify and produce detailed conformance reports to validate CAD model data interoperability.  Identifying these issues is important to ensure that the nominal geometry used to build and check components is consistent with the design models.

There can be a huge amount of information to compare and validate in 3D models.  Using a manual process to reliably detect and communicate engineering changes or unintended differences leaves too much at risk.  The SA CAD Validation application helps validate CAD models in SA against nominal point sets.  The application provides pass/fail test results and reports graphical analysis statistics on the differences between nominal reference point sets against the CAD surfaces.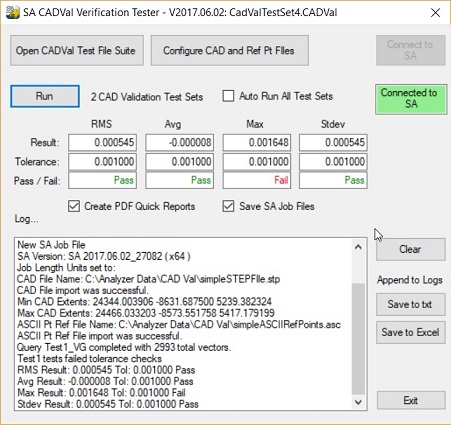 CAD Data Validation Test Reports
Many different test reports are available through the SA CAD Validation application.  A running log file records each step in the importing and analysis process.  An SA Report of the resulting Points to Surfaces Query can be output in PDF form.  An Excel Log File provides a running log of validation test run results.  The Validation Test SA Job file can be archived.  The job file is named with the Test Set name and a suffix of the Date + Time at runtime.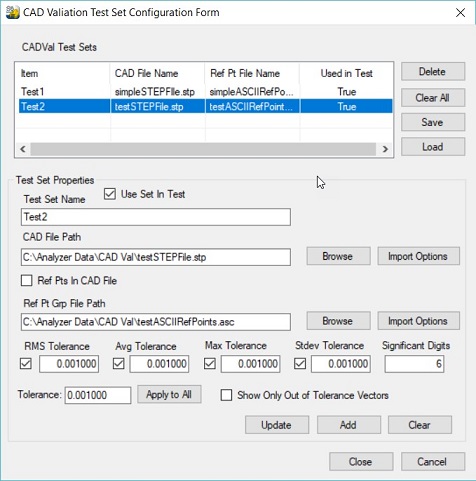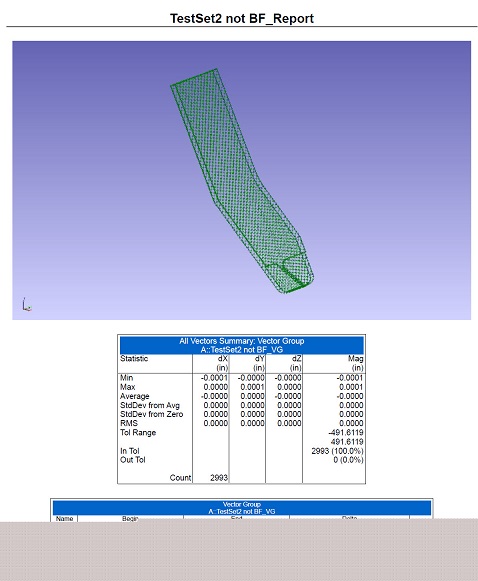 The SA CAD Validation application is available via the download page.
Questions? Contact NRK Support at support@kinematics.com.
Sign up to receive our eNewsletter and other product updates by clicking here.